The Ledger screen is the primary way you can view the historical billing record for a patient. Two primary items will appear in the Ledger: (1) FeeSlips and (2) Insurance Claims. You can click the top tabs (Full Ledger, FeeSlips or Ins Claims) to limit your view to a specific category of information.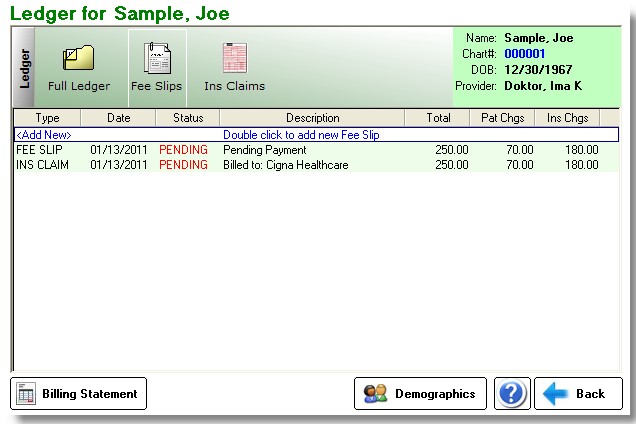 Functions available in the Ledger Screen:
Add New
Double-clicking the <Add New> line allows you to add a new FeeSlip for the patient. You can only add FeeSlips, as Insurance Claims are created directly on the FeeSlip screen.
Create a simple Account Statement that includes all patient balances across all FeeSlips. Be sure that you have transferred outstanding balances that you billed to insurance over to the patient (using the FeeSlip Transactions button), if necessary.
Functions available by right-clicking in Ledger Screen: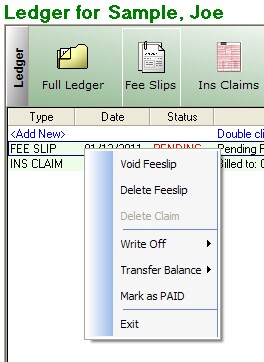 Void FeeSlip
Allows you to "Void" the FeeSlip (used when you cannot delete the FeeSlip because it has associated transactions).
Delete FeeSlip
Allows you to delete the patient FeeSlip. Note this can only be done on FeeSlips with no associated transactions (e.g. payments or open claims).
Delete Claim
Allows you to delete an unprocessed claim. Useful if you created a claim for the wrong insurance plan or otherwise made a mistake. Before deleting a FeeSlip, you must delete all Claims first.
Write Off Balance
Allows you to write off the remaining patient or insurance balance that is associated with the given FeeSlip.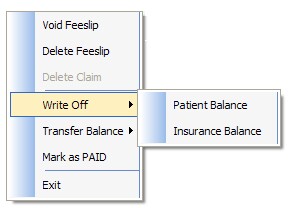 Transfer Balance
Allows you to transfer the remaining insurance balance to the patient's responsibility or to another insurance.
Mark as Paid
If a FeeSlip still shows as unpaid (for example, in the AR List) when there is no actual balance left, you can "Mark as Paid" to update the system. Note this is NOT a method to indicate the patient has paid; to do that you need to open the FeeSlip and use the Patient Payments button. Or, for insurance payments, use the Post Payments button.
Miscellaneous Features
In the menu at the very top of the screen are several miscellaneous features which make using the software easier.
Pull Ledgers for a Given Day
If you are working on patients from a previous day, you can pull all the Ledgers for patients with FeeSlips of the same DOS (date of service). This can be useful when billing for each day separately.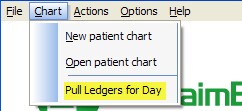 Rebuild the Accounts Receivable List
If you have errors or phantom FeeSlips in the AR list, you can use this feature to delete the current list and rebuild it. This may take several minutes to complete. WARNING! This will delete all Action Notes you have entered!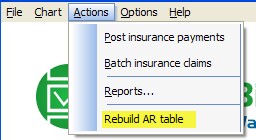 Submit a Bug Report
If you find a bug in the software, please upload a Bug Report. Although we may not contact you for every bug, we do keep a list of problems and try to correct them for a future update of the software.