***********************************************************
WARNING: When you import data into ezChartWriter, please review the column matches closely. If the data does not appear to match, then DO NOT IMPORT until you have found the matching fields (or marked them "unmatched"). Once you import patient data, there is no undo function!
***********************************************************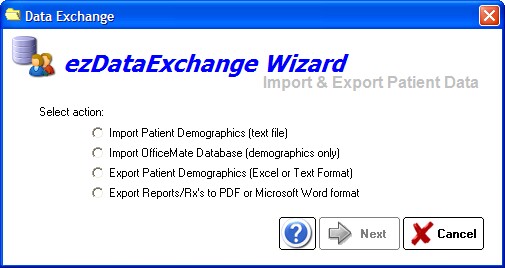 There are two options for Importing Data:

(1) Importing from a text (csv, comma separated values) file. This option works with files that you create by exporting to text format from your current software.
(2) Importing directly from an OfficeMate database. This pulls the patient demographics only.
Using the Import Wizard
The Import Wizard helps you quickly and easily populate your new database with existing patients. It is, however, a basic tool. It will import patient demographic information (such as name, address, telephone, DOB, insurance info and other identifiers). The wizard requires the data to be in a standard text format such as CSV (comma-separated values) or tab-deliminated.
The current version of the Import Wizard will not allow you to import EMR or billing information. This type of data is too complex for the Wizard (smart as it may be). If you wish to populate your new database with more detailed information from your current practice management and/or EMR system, please contact Tech Support at support@ezchartwriter.com for details and pricing on database conversion services.
If you get errors, or have other problems importing your patient data, it may be necessary for us to manually convert your data for you. There will be no charge if we can use your current text-based import file and we are importing only the data that the Wizard would normally handle. Additional fees will apply if your current software cannot generate an Export file or if you need addition and/or custom data imported.
OfficeMate Database Import
Use this utility to import the patients from the OfficeMate database directly into ezChartWriter. Only the patient demographics will be imported.