The Administrator can manage the various users (including him or herself). You can Add, Edit or Delete users (although making an existing user "inactive" is preferred). The security levels and basic information can be edited on this screen.
Every user will have three required settings:
User Type
The user type can be either Staff or Provider. A staff member is someone who does not provide direct patient care; a provider is classified as someone who does provide direct care (doctor, nurse, tech). In some cases, you may wish to limit lower level providers to the Staff category to restrict access to Rx creation, although many features can be blocked by setting the proper security level.
Security Level can be set by clicking the Security Level on the User Details screen: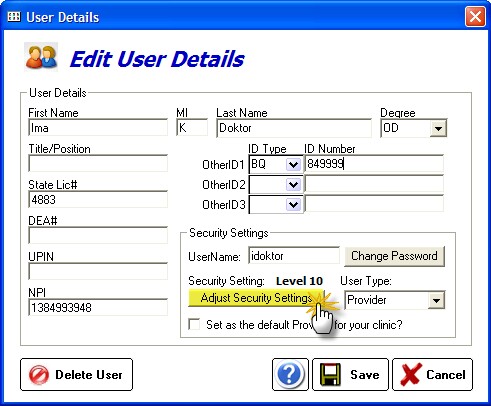 The Security Level can be set quickly using the Quick Security Settings slider (from 0, the lowest, to 10, the highest). Level 10 should be reserved for yourself, the Admin. Click the Use Custom button to modify individual settings.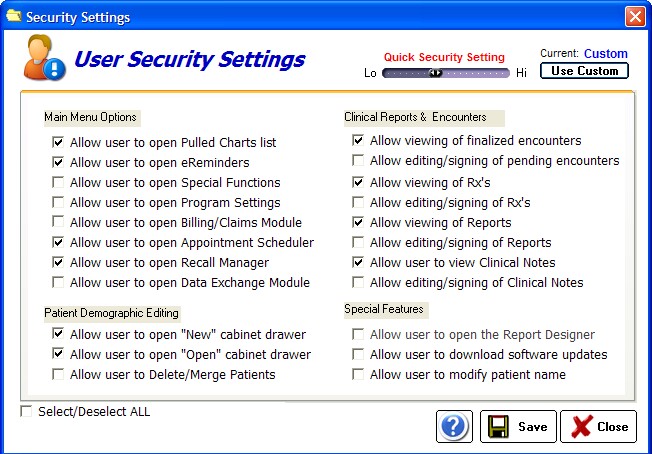 Active Status
Users who are no longer with your practice should be marked Inactive, rather than being deleted from the system. Deleting a user who has created reports, Rx's or encounters will cause some difficulties with tracking. To set the status, click the checkbox under the column "Active"