To enter a Chief Complaint, click the "Complaints" tab in the Subjective Findings tool.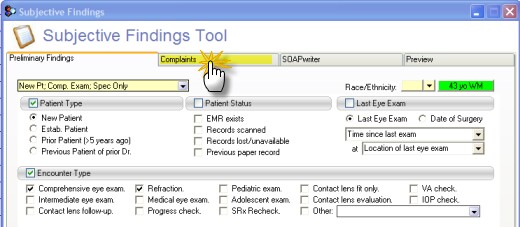 Use the various checkboxes and dropdown choices to select the chief complaint(s). You can unselect the checkboxes to remove text. To review what you have selected, click the Preview tab at the top. You also use the SOAPwriter tab (which is customizable) to enter more detailed choices.
You may also enter free-text into the Preview box. Anything you enter here will paste into the chart as it is shown, once you click Okay on the Subjective Findings tool.
To enter a secondary complaint, use the dropdown choice below the main complaint section (the small arrow will allow you to choose a heading):