It is possible to import data from certain automated instruments. The following instrument types are supported:
Marco/Nidek (using MarcoConnect)
RT-2100, RT-900, RT-5100, VL3000, ARK-530A, ARK-700A, ARK-730A, ARK-760A, LM-1000, LM-1200, LM-500, RKT-7700, ARK-10000, ARK-560A, NT-2000, NT-500, LM-600, RT-3100
Topcon
AR/AK 8800, AR/AK 8000
Reichert
AR/AK 460
Open the Instrument Link tool by clicking the button at the bottom of the Automated Instrument tool screen.

After clicking the Instrument Link button, the Instrument Upload screen appears.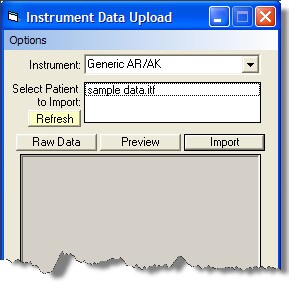 The first time you try to use the Instrument Link, you need to define the Setup options: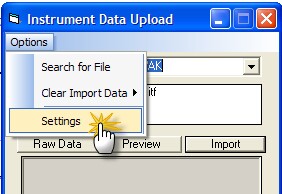 The Import Settings screen allows you to select the default instrument that you wish to import and the default path to the location where the instrument uplink files are stored on the network.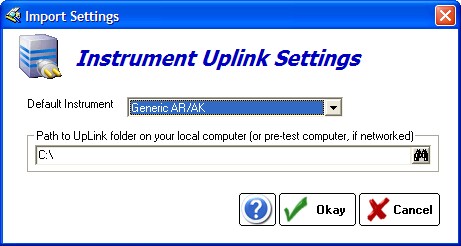 Once the defaults have been set, you can begin using the import utility. In the list of files box, select the one that contains the patient data.