The first time ezChartWriter is accessed, the Networking Wizard displays to guide you through configuring the program according to your custom settings (even if you do not plan to install on a network, you must follow these steps).
1.

Open ezChartWriter. The Program Splash Screen displays; click

Continue
2.

Click

Start

to start the wizard. The Networking Wizard window displays: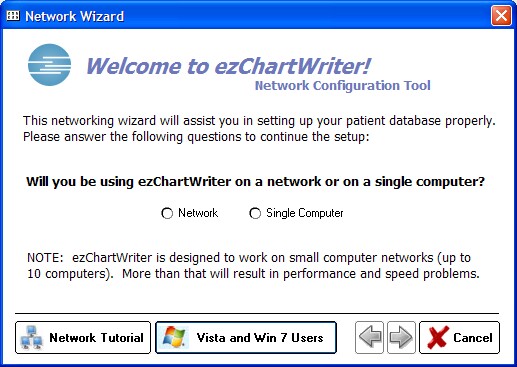 3.

Select the

First time installation

option and select the

Edit Admin Settings

box. It is recommended that you use the default installation location (usually the

Program Files\ezHealthWare

folder, unless you are setting up a client computer on a network.
4.

Click

Next

. The

Registration of Software

window displays momentarily, and then the

Create New Database Utility

window opens:

5.

Click

Build New Database

. The system builds your database and displays a completion message once the database is created.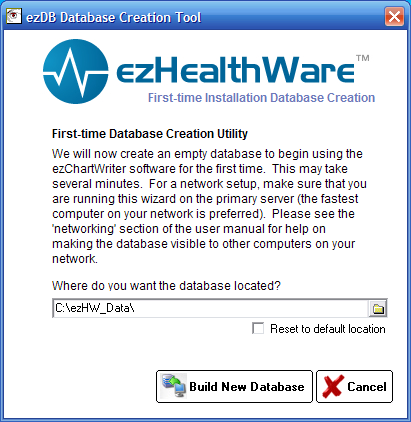 6.

Click

Next

. The

Registration of Software

window displays: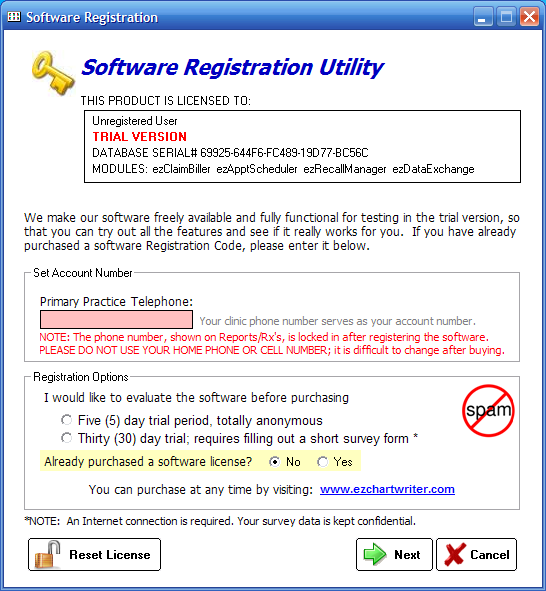 7.

Once the database is created, you will be guided through the process of registering and setting up the software. If you are evaluating ezChartWriter, you do not have to provide a software registration

key code

in the space provided. Simply leave this field blank and you will have an opportunity to use the software with a limited number of patients (30 is the maximum).
8.

Click

Next

. The

Administrator Setup

screen displays: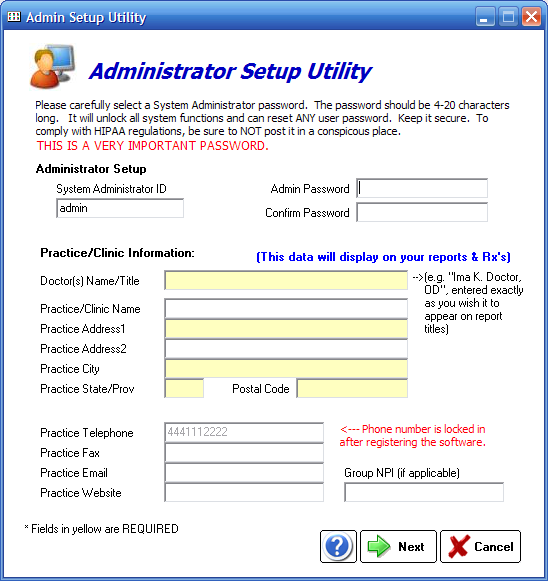 IMPORTANT: The System Administrator is the software user delegated to maintain software settings and security levels, to add or delete users, and to register the software. This individual should be a trusted, long-term employee (preferably someone with good computer knowledge). The password that is selected must be remembered (unlike user passwords, it is not easily reset). Keep the System Administrator password in a secure location that is not easily accessible by others.
9.

Click

Next

. The

Primary User Setup

window displays: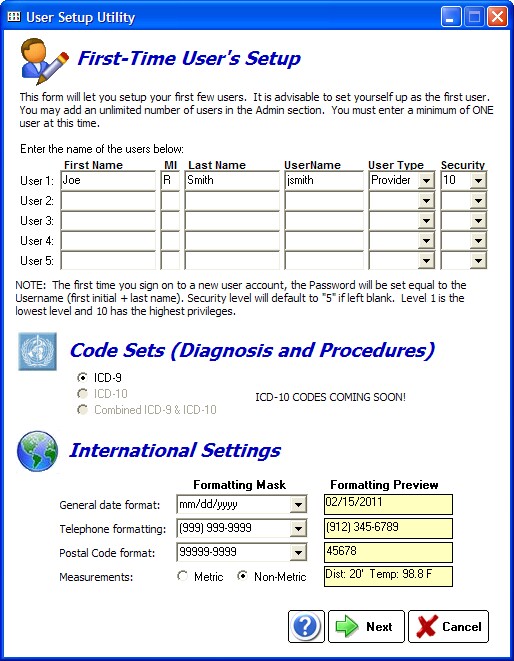 Enter your primary user information in the spaces provided. The system will automatically generate a username for you when once you enter your name. You can accept the username or create your own (your username must consist of at least five characters). If you have two users with the same last name and first initials, you will have to create a custom UserName for at least one of them (since the default username is first initial plus lastname)
International Settings - if you are using the software outside the United States you will likely need to adjust the date format and metric measurements.
10.

Click

Next

. The

Password Information

window displays:
When you first log into the USER account, you will need to enter the default password. The default password for users is the same as the UserName (so for "jsmith", enter the password as "jsmith"). You will then be prompted to enter a new password.

| | |
| --- | --- |
| 11. | Restart the software. You will see a notice that the Trial Period has begun. |
| | |
| --- | --- |
| 12. | Open ezChartWriter and sign in to the Administrator account to review/set the security options. |