To install the software on your computer, you must either download a copy from the website or install off a CD-ROM.
Website Download
This option requires a high-speed internet connection, as the setup file is approximately 50MB in size. This translates to a few minutes of download time (DSL) to hours (dial-up):
To download, click the website link (www.ezchartwriter.com/download.php). A confirmation screen may appear, similar to below: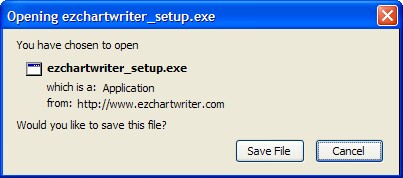 Click "Save" to save the file to your local hard-drive (usually in your "My Documents\Downloads" folder). Remember this location. Once the download is complete, double-click on the file "ezchartwriter_setup.exe" to start the installation process. Follow the on-screen prompts.
CD-ROM Installation
If you have a CD-ROM disc, you simply have to insert the disc in your CD drive and it will usually auto-start. If it does not, open the My Computer icon, click on the CD-ROM drive icon, then double-click the file "setup.exe". Follow the on-screen prompts.