Before creating your first Claim, you should setup the Claim Defaults. This screen can be opened in one of two ways: (1) from the main screen menu (Options->Default Claim Settings) or (2) on the Open Insurance Claim Form: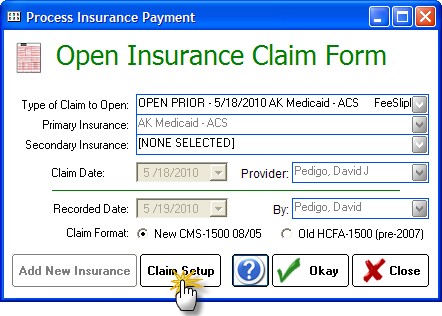 The Default Claim Setup screen will display:
Below are the various default options. All defaults apply when there is no other overriding value (for instance, your Box 1 default will apply unless the software detects that you used Medicare or Medicaid). Some defaults will apply to ALL claims (for instance box 32 & 33) and can only be changed on the Claim Form (or by resetting the defaults).
Box 1 - Insurance Type
Select the primary insurance type you deal with. For most offices this will almost always be "Other".

Box 6 - Patient Relationship to Insured
The software will update to the correct choice if you entered a subscriber/guarantor in the Patient Demographics screen. Otherwise, the default (usually "Self" will apply).

Box 25 - Federal Tax ID Number
One of the most important fields on the claim form; you must CORRECTLY enter your tax ID number. This will by your group TIN if you are a group, partnership or corporation. Otherwise you will use your social security number. Check the SSN or EIN box as appropriate.

Box 26 - Print Patient's Account Number
We recommend that you include the Patient Account Number (the Chart ID#), as this will help you in cases of mismatched information when the insurance company processes the claim. In rare instances the EOB may not show a name (since it did not match) but will show the account number.

Box 27 - Accept Assignment
The usual default is Yes unless you have specific reasons for not accepting payments from the insurance plans.

Box 31 - Signature of Physician
This is the legal name of the Provider who is responsible for the claim and should match the name as referenced by the various insurance companies. The date will always insert by the software when the claim is created.

Box 32 - Service Facility Location
Where you provided the service you are billing; for many providers this is a set location. Note that the NPI for the Service Facility should be entered here.

Box 33 - Billing Provider Information
Your billing location and contact information. And the Billing Location NPI.

Miscellaneous Options
Various other settings that most providers can leave as the defaults given, unless you have specific needs to change. The question "Is there another health plan?" will set to Yes automatically on a claim if you include secondary insurance information.
NOTE: Be sure to set up the Provider's NPI in the User Settings. This can be done in the Main Module when signed in as an Administrator.