!--> !-->
!-->

What is ezChartWriter?
ezChartWriter is an affordable EMR (Electronic Medical Records) software for Ophthalmic Professionals (optometrists, ophthalmologists, and opticians). It allows you to track patients, create reports and prescriptions, enter exam data and generate letters. ezChartWriter resides on your local computer and can be networked so that all Windows XP, 2000 or Vista computers can see the data. With its many basic and advanced features ezChartWriter offers a secure, affordable and efficient means to add EMR to your practice.
Have Questions?
View our FAQ (Frequent Asked Questions) section: FAQs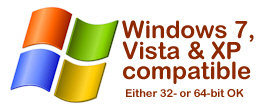 ezChartWriter 4.1 released
!-->
What's New
Enter multiple medication Rx's on one prescription.
Open a patient chart, go to encounters and select <Add New>, then select "Create a New Rx".
Full compliance with NPI requirements for claims
The NPI fields for Facility, Billing Location and Rendering Physician can now be entered.
Basic E&M (Evaluation/Management) Coding Wizard for Medicare
To use the coding wizard, select "Utilities" in an open patient exam encounter.
Add attachments (scanned documents, text or image files) to chart
Easily add files using the Attachment Manager button on the "Encounter List" screen. You must scan your own documents at this time. We recommend PaperPort, saving to PDF format. Any scanning software will work however.
Internationalization Options (date format, telephone mask, metric acuities)
To change settings, go to Admin and select Settings & Options->International Defaults.
Future Enhancements
Better support and additional instruments for the Automated Instrument Interface.
Current interface (eyeCOMM) is limited to a few instruments. Expected completion: 2011.
Inventory Module
Adding the ability to track ophthalmic goods. Expected completion: 2011.
Full export/import of patient data and exam results
Likely using the HL7 format and/or other standards as they are developed. Expected completion: 2012
Direct scanning of documents
Upgrade of attachment manager to allow direct scanning of document into chart (jpg format). Expected completion: DONE.
Additional Language support
Currently working on a Spanish language version. Expected completion: 2012.
The latest version of the ezChartWriter is available in English only.

!--> !--> !-->

!--> !--> !-->